Thank you so so so much!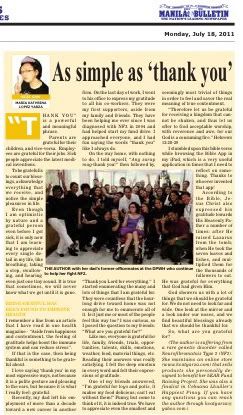 As simple as 'thank you'
by Maria Kathrina Lopez Yarza
July 18, 2011
"Thank you" is a powerful and meaningful phrase.
Parents are grateful for their children, and vice-versa. Employees are grateful for their jobs. Sick people appreciate the latest medical inventions.
To be grateful is to count our blessings, acknowledge everything that we receive, and notice the simple pleasures in life.
Even though I am optimistic by nature and a grateful person even before I got sick, it is only now that I am learning to appreciate every single detail in my life, like breathing, taking a step, swallowing, and hearing even just one tiny sound. It is true that sometimes, we will never know what we got until it is gone.
Being grateful has been found to improve health
I remember a line from an article that I have read in one health magazine - "Aside from happiness and contentment, the feeling of gratitude helps boost the immune system and can reduce stress."
If that is the case, then being thankful is something to be grateful about.
I love saying 'thank you' in my most expressive ways, not because it is a polite gesture and pleasing to the ears, but because it is what I really feel: grateful.
Recently, my dad left his employment of more than a decade toward a new career in another firm. On the last day of work, I went to his office to express my gratitude to all his co-workers. They were my first supporters, aside from my family and friends. They have been helping me ever since I was diagnosed with NF2 in 2004 and had helped start my fund drive. I approached everyone, and I had fun saying the words "thank you" like I always do.
On the way home, with nothing to do, I told myself, "Ang sarap mag-thank you!" then followed by, "Thank you Lord for everything." I started enumerating the many and lots of things that I am grateful for. They were countless that the hour-long drive toward home was not enough for me to enumerate all of it. Is it just me or most of the people feel this way too? I was curious, so I posed the question to my friends: "What are you grateful for?"
Like me, everyone is grateful for life, family, friends, trials, opportunities, talents, skills, emotions, weather, food, material things, etc. Reading their answers was really satisfying. I felt the deep emotion in every word and felt their expressions of gratitude.
One of my friends answered, "I'm grateful for toyo and patis, it makes my food delicious; can't eat without them!" Funny, but come to think of it, it is indeed true. We have to appreciate even the smallest and seemingly most trivial of things in order to feel and savor the real meaning of true contentment.
"Therefore let us be grateful for receiving a kingdom that cannot be shaken, and thus let us offer to God acceptable worship, with reverence and awe, for our God is a consuming fire." Hebrews 12:28-29
I stumbled upon this bible verse while browsing the Bible App in my iPad, which is a very useful application in times that I need to reflect on something. Thanks to whoever invented that app!
According to the Bible, Jesus Christ also expressed his gratitude towards His Heavenly Father a number of times: after He raised Lazarus from the tomb; when He took the seven loaves and fishes, and multiplied them for the thousands of followers to eat. He was grateful for everything that God had given Him.
God showers us with a lot of things that we should be grateful for. We do not need to look far and wide.
One look at the mirror and a look under our noses, and we find beautiful blessings already that we should be thankful for.
So, what are you grateful for?