Got this award from ate
Cielo
.. Thank you! Thank you! Thank you! I'm giving this award to ate Cielo as well.. A loving wife, Caring mom, Good friend, Career woman and Dedicated blogger.. Whew!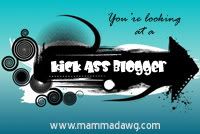 Maybe they've got incredible, original content. Or they're overflowing with creativity. Is it someone that helps you become a better blogger? Or a bloggy friend you know you can count on? Or maybe it's someone who simply inspires you to be a better person… or someone else who sends you to the floor, laughing your ass off.
Whatever the reason may be, I'm sure you know at least a couple of bloggers that kick ass. Well… why not tell 'em so?
LOVE ON 'EM
* Choose 5 bloggers that you feel are "Kick Ass Bloggers"
* Let 'em know via email, twitter or blog comments that they've received an award
* Share the love and link back to both the person who awarded you and back to www.mammadawg.com
* Pass it on!

To get the code for the image you can go back to mamadawg.com - don't forget to link up the person who nominated you for the Kick Ass Blogger Club.
Of course I do know a couple of 'Kick Ass Bloggers' and here are five of them:
Super Cool MommyCool
- She's a super mom, blogger and friend.. When she feels blogging, she really does blogs A LOT.. Hyper kung hyper.. Haha! Best of all, reading momycool's blog will make you say: "life is good!" I'm so glad I got the chance to know her..
Ate Berry Tsinay
- Berryblitz+Tsinay.. She said she's a black sheep, but I don't think so.. I've been following her blog and I conclude that she's a super woman.. She takes care of her family, works as a programmer and earns from blogging.. She also knows a lot of stuffs and manages a lot of blogs.. Beat that!
Ella Ganda
- Every time I read Ella's blog entry, it never fails to make me laugh.. Yes, I can't smile/laugh.. Pero deep inside.. No, it's not like an ordinary humor blog.. It has a lot of sense and you'll get a lot of realizations from it.. 'Aww' 'Oww' even 'Eww' Haha!
Ida
- A co-blogger on wheels.. Ida is paraplegic due to a spinal cord injury from a motor vehicle incident.. She's stuck on her wheelchair but that doesn't keep her faith from moving..
aGirlForAllStatus
- Ate Cherry is the Girl for All Status.. Her blog tackles about adventures and misadventures in her life's journey.. She blogs about anything and everything under the sun.. I doubt if you won't find something that will interest you in her blog.. You might also want to participate in her monthly project and join the fun..