Recap. Recap.
Finally got our
Hello Kidney
shirts.. and thanks to Betty for personally delivering it despite the heavy rain..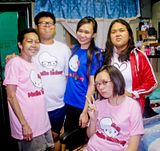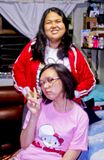 After almost 7 years?
Help Betty with her upcoming kidney transplant, visit
Hello Kidney and Friends
on Facebook. :)
August 9
My dad's youngest sister, Tita (Ninang) Myrna and her family visited the country!
They arrived during "Bagsik ni Habagat", August 7. Luckily, they were able to be picked up at the airport despite the flood all over the metro. They were detained in my lola's (Me) house since most of the roads are still flooded. It was only until Mr. Sun showed up until I get to see them though.. :)
Hello Patricia & Cate! ..and ME.
Our (talitha, camille & me) favorite mirror when we were still kids.
Megamall with Talitha & Maro and I can;t remember why. Then tambay at Gong cha. Dinner with fam at Barrio Fiesta (c/o Ensogo voucher)
Wala lang.
Lolo Pete's death anniversary. Loyola Memorial. Marikina. Eastwood. Dinner at Seafood Island. Yarza. Loyola. Alveyra.
August 27
Salu-salo at ME's house the day before Tita Myrna, Tito Roy, Patricia & Cate went home to the U.S.
Next: September - full of celebrations :)